If you have seen a colored scripts like a fish from "Session Snapper v.4" by Tanel Poder or OraLatencyMap by Luca Canali, you may be also want to colorize your scripts.
I've created the script for this purposes with predefined substitution variables.
Just download colors.sql and use it like that:

@colors.sql;
prompt ::: &_C_RED ***  TEST PASSED  *** &_C_RESET :::
prompt ::: &_C_RED *** &_C_BLINK TEST PASSED &_C_BLINK_OFF *** &_C_RESET :::

You'l get something like this:


List of variables
Description
Variable
_C_RESET
Reset formatting – Turn off all attributes
_C_BOLD
_C_BOLD_OFF
Set bright mode on/off
_C_UNDERLINE
_C_UNDERLINE_OFF
Set underline mode on/off
_C_BLINK
_C_BLINK_OFF
Set blink mode on/off
_C_REVERSE
_C_REVERSE_OFF
Exchange foreground and background colors
_C_HIDE
_C_HIDE_OFF
Hide text (foreground color would be the same as background)
_C_BLACK
_C_RED
_C_GREEN
_C_YELLOW
_C_BLUE
_C_MAGENTA
_C_CYAN
_C_WHITE
_C_DEFAULT
Font colors
_CB_BLACK
_CB_RED
_CB_GREEN
_CB_YELLOW
_CB_BLUE
_CB_MAGENTA
_CB_CYAN
_CB_WHITE
_CB_DEFAULT
Background colors
[collapse]
In addition, i want to show simple example of printing histograms.
We can simple print histogram with query:
Сolorless histogram

-- loading colors variables:
@inc/colors;
-- set max length of bar:
def _max_length=80;
-- columns formatting:
col bar format a&_max_length;
-- clear screen:
prompt &_CLS
with t as (-- it's just a test values for example:
            select level id
                 , round(dbms_random.value(1,100)) val 
            from dual 
            connect by level<=10
          )
select t.* 
      -- bar length is just " (value / max_value) * max_length" in symbols:
      ,floor( val * &_max_length / max(val)over() 
            ) as bar_length
      -- generating of bar:
      ,lpad( chr(176)
            ,ceil(val * &_max_length / max(val)over())
            ,chr(192)
           ) as bar
from t;

[collapse]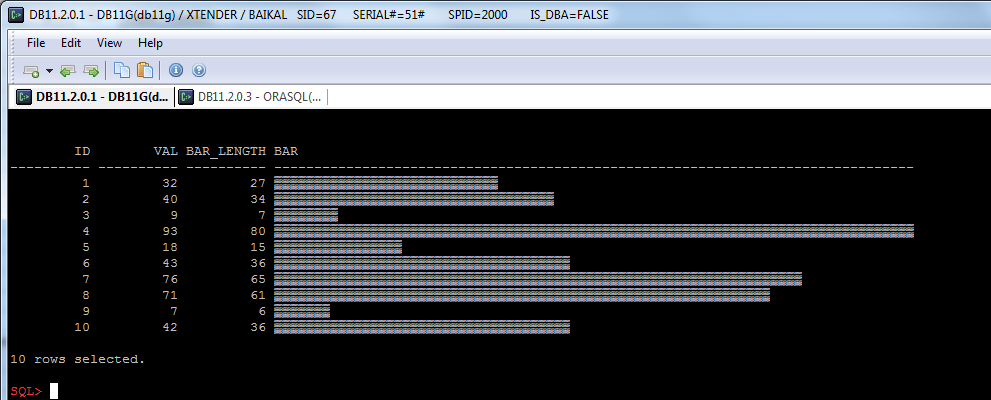 And now we can colorize it:
Colorized script

-- loading colors variables:
@inc/colors;
-- set max length of bar:
def _max_length=100;
-- column formatting
col bar format a&_max_length;
-- clear screen:
prompt &_CLS

-- test query which prints histogram(or may be simply bars?):
with t as (-- it's just a test values for example:
            select level id
                 , round(dbms_random.value(1,100)) val 
            from dual 
            connect by level<=10
          )
select 
       id
      ,val
      , case 
           when pct >= 0.9 then '&_C_RED' 
           when pct <= 0.4 then '&_C_GREEN'
           else '&_C_YELLOW'
        end 
        -- string generation:
      ||lpad( chr(192)
             ,ceil(pct * &_max_length)-9 -- color - 5 chars and reset - 4
             ,chr(192)
            )
      ||'&_C_RESET'
       as bar
from (
     select 
        t.*
       ,val / max(val)over() as pct -- as a percentage of max value:
     from t
     ) t2
/

[collapse]